Elizabeth Shea
   Clinical Associate Professor & Director of Contemporary Dance
   IU Department of Kinesiology
Project: "Expanding Artistic Expression: Motion Capture Technology and Choreographic Choices"
Elizabeth Shea, Director of Contemporary Dance, has received numerous grants and commissions to create dance works. Her choreography has been chosen for performance by the World Dance Alliance, the National Dance Association, the American College Dance Festival Association, the International Computer Music Association, Regional Dance America and for other national and international venues.
Most recently, her work was shown at Dance Theatre Workshop in NYC, NY and at the John F. Kennedy Performing Arts Center in Washington, D.C., where former Paul Taylor dancer Constance Dinapoli performed Shea's seminal work These Hands with Karen Reedy Dance. Her work The Nature of Human, in collaboration with past IDAH fellow Jeffrey Hass, will be performed by the Eisenhower Dance Ensemble as part of their 2011-2012 season. Liz has served on the faculty and as a guest artist at many American universities, dance companies, and dance schools and was also an Artist-in-Residence for the State of Florida.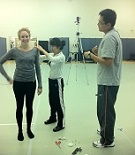 In 2006 she traveled to China, teaching master classes and presenting choreography. Liz recently received funding from the National Endowment for the Arts to produce Bella Lewitzky's Suite Satie and served as choreographer for IU Professor of Composition Don Freund's Passion With Tropes. This past May, she traveled to Israel as part of a USA arts delegation and taught at the prestigious Jerusalem Academy of Music and Dance.
Her current project, "Expanding Artistic Expression: Motion Capture Technology and Choreographic Choices," will use motion capture technology and the resultant visual artifacts to produce a new dance work with increased movement range and possibilities for dance choreography. The new work, titled "Between the Sun and the Moon," will indeed employ visuals gleaned from the mo cap data to create an environment of non-linear memories and multi-dimensional movement. This project also explores the concept of using pilot studies to make informed artistic choices when working with art and technology as well as to develop a methodology for choreographers and other artists when creating works involving the digital arts, based on exploration and informed decision making.